The bag is the item that Doomed wears. Presumably, he wears this to disguise himself as a rubbish bag to prevent being noticed.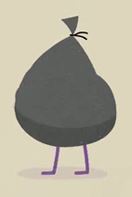 In the video, Doomed and his bag are hit by the bat.

In the game, the bag is worn by Doomed again in Train Station.
Putz wrote:
Or you'll end up like me!
Ad blocker interference detected!
Wikia is a free-to-use site that makes money from advertising. We have a modified experience for viewers using ad blockers

Wikia is not accessible if you've made further modifications. Remove the custom ad blocker rule(s) and the page will load as expected.