The Bat is the item the Drug dealer killed Doomed with.
In the video, the bat is swung at Doomed, killing him.
In that game, you must avoid the baseball bats. If you win, Doomed will jump up and down and a car follows him. Otherwise, Doomed will get hit by a bat and bleed.
Putz wrote:
Or you'll end up like me!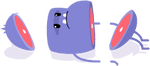 Ad blocker interference detected!
Wikia is a free-to-use site that makes money from advertising. We have a modified experience for viewers using ad blockers

Wikia is not accessible if you've made further modifications. Remove the custom ad blocker rule(s) and the page will load as expected.