| | |
| --- | --- |
| Boothy's name might be changed when Boothy's official name has been announced by Metro! | |
Boothy's gender is not confirmed by Metro yet, so the gender given in the article is decided by the Dumb Ways to Die Wiki community.
Be sure Boothy may not be a Lady or Gentleman in the DWtD series!
Boothy is a pastel red character only seen in Dumb Ways to Die 2: The Games and the Dumb Ways to Die website. He appears in the entrance of the Dumbest of the Dumb and when you get the results. he's the only red character.
Putz wrote:
Or you'll end up like me!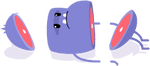 Ad blocker interference detected!
Wikia is a free-to-use site that makes money from advertising. We have a modified experience for viewers using ad blockers

Wikia is not accessible if you've made further modifications. Remove the custom ad blocker rule(s) and the page will load as expected.