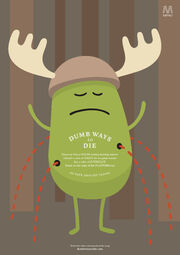 Botch and Mishap both fall backwards when they die. Interestingly, they are both green.
In the MIFF clip, he has no eyebrows unlike everybody else except the ones in the front row.
He, Stupe, and Numskull are the only three original characters to wear headgears (although Numskull took her helmet off).
His app minigame was made easier on September 2013. Lax also had his game modified.
He is one of the characters featured in the meet and greets for Rail Safety Week in 2014.
According to early concept art of Dumb Ways to Die, he worn orange shoes and had a large hole at his chest.
In Dumb Ways to Die 2 the Games, he appears in Bunyip Cumbaya as an audience if you win the minigame. Seeing how his moose hat is seen during the scene and he is the only character with moose hat.
[edit]