Candy is a food item, shown in the app in multiple Hapless minigames, and the Dumb Ways to Die - Halloween short.
Appearance
Edit
The pieces of candy are multi-colored. In the app, they are small round candies with colored wrappers. In the Halloween short, they range from jelly beans to lollipops.

Hapless pokes the grizzly bear with a stick. The player must duck by tapping the screen at the right time. The candy will appear only if you win, otherwise Hapless's head will be eaten again. They also appear in the minigame Candy Catch, where the player drags the basket to collect the candy using a candy basket, and if a victory, he shares it with the bear - the opposite results in the bear eating your head.
Dumb Ways to Die - Halloween
Edit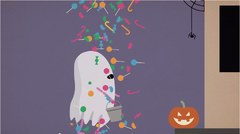 In the Treat ending of the short, Mr.Ghost is crushed by a pile of candy. As a sight gag, Munchies takes to the resulting pile and engulfs it in one gradual swoop, ending up swollen and fat till he bursts, leaving a big mess.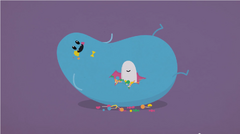 The candy can also be seen falling out of Munchies' belly in the end of Treat.