Doomed is the character who scratched a drug dealer's brand new ride.
Doomed doesn't believe in fate. In fact, he laughs in the face of danger, which led him to scratch a drug dealer's brand new ride. You can't hear his laughter now, the plastic bag he's in muffles it. Perhaps Doomed should reconsider believing in fate.[1]
---
Appearance
Edit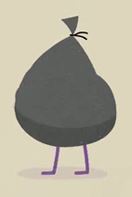 Little is known about Doomed's appearance, as he is in a garbage bag. It can be assumed that he may have a purple body, since his legs are purple as well.

In the video, Doomed is struggling inside the bag. An unseen character (we assume that it is the 'drug dealer') swings a bat at him, and he appears to collapse in pain.

His first game was to dodge baseball bats appearing from either side of the screen. If he managed to dodge all the bats, he would jump for joy and exit pursued by a hearse. If he got hit, he would collapse and bleed out.
Doomed's second game is to avoid cones appearing from the bottom of the screen running from the drug dealers car. If he dodges all the cones, he would jump into a garbage truck to escape. If he hits one, he gets hit by the drug dealers car and be pushed into the screen, resulting in failure.
Although Doomed sings and dances inside his bag, his mouth is never seen, like Numskull and Clod. He is also the only singing character whose mouth is never seen.
Although Doomed was hit by the baseball bat, he looks like he doesn't have any injury (despite being inside the bag) when dancing in the chorus, implying that his body was completely hit. The same goes with Ninny (implying his body was completely destroyed), Dimwit (although he was burned in the chorus) and Clod (who doesn't appear much in the chorus or dance).
He is never seen outside his bag.
He and Putz are the only purple characters in the video.
Doomed, Ninny, Botch and Doofus all don't appear on Dumbwaystodie.com.
He and Bungle are the only characters whose actual body shapes are unknown.
Ad blocker interference detected!
Wikia is a free-to-use site that makes money from advertising. We have a modified experience for viewers using ad blockers

Wikia is not accessible if you've made further modifications. Remove the custom ad blocker rule(s) and the page will load as expected.