The Dryer is the item that Bungle hid in.
Appearance
Edit
The dryer appears a grey box in the chorus, and before the chorus, the dryer looked brown.
It is the only item that appears differently each time in the same video.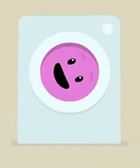 Bungle is smiling from inside the dryer. He moves his hand over his mouth, making the silence gesture, meaning he is hiding in it. Then the dryer builds up speed and is getting scared.
However, in the chorus, the dryer is tumbling slowly.

In MIFF, Bungle and the Dryer are seen in the audience.
Bungle's Dryer now appears in the app in the minigame, where the player swipes on the screen contrary to the motion of the dryer.
Ad blocker interference detected!
Wikia is a free-to-use site that makes money from advertising. We have a modified experience for viewers using ad blockers

Wikia is not accessible if you've made further modifications. Remove the custom ad blocker rule(s) and the page will load as expected.