Let the Training Begin
Edit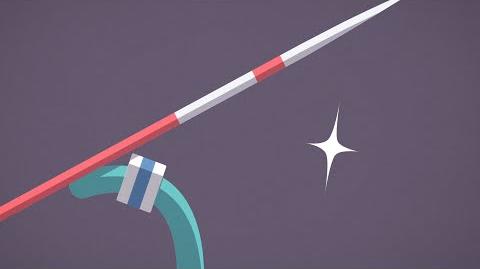 The first video trailer released on the DumbWays2Die channel was the first to feature Loopy, who watches a javelin being thrown from a distance, and ends up being impaled by the same javelin directly in its path.

Sprint Training
Edit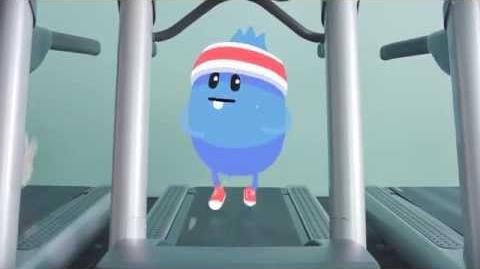 The second video trailer released in the first week of November involved Loopy and a live action person, both competing with each other on treadmills. In a feeble attempt to catch up, Loopy trips over and turns into a mess.

Leg Training
Edit
The third video trailer released in the second week of November starred Loopy as his live action trainer fits weights to his leg press fitness machine. The weights of the leg press prove too much for Loopy, and he predictably ruptures into a mess. here to see video.
Spin Training
Edit
The fourth trailer released in the third week of November, the same week when the game was released, featured Loopy competing against a live action human (a woman), both on exercise bicycles. Smitten by the attractiveness of the human competitor, Loopy gets distracted as he pedals faster and faster, until his foot gets caught in the pedal, and he falls off his bike, ending up being pummelled numerous times in the process, as the competitor winces in shock. here to see video.
Weight Training
Edit
The fifth video trailer released on the 8th day of December starred a man lifting weights. Loopy walks in, and gets on a bench press as the live action person watches, interested. The weights prove too much for Loopy, and he drops them on his neck, and his head swells up and explodes, very similar to the way Numskull died. The man's mouth falls open in shock as Loopy dies. Go here to watch the video
Print AdvertisingEdit
Print posters were distributed around the Metro stations to commemorate the countdown the release of the game. Some of the adverts were distributed in the commuter newspapers as well.
Ad blocker interference detected!
Wikia is a free-to-use site that makes money from advertising. We have a modified experience for viewers using ad blockers

Wikia is not accessible if you've made further modifications. Remove the custom ad blocker rule(s) and the page will load as expected.