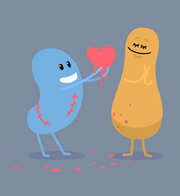 The heart was the item Dunce cut out to attract Ninny in Dumb Ways to Valentine. He dances with it on his hands, then flops down.
After Dunce dies, his heart is still shown at the epilogue.
Ad blocker interference detected!
Wikia is a free-to-use site that makes money from advertising. We have a modified experience for viewers using ad blockers

Wikia is not accessible if you've made further modifications. Remove the custom ad blocker rule(s) and the page will load as expected.