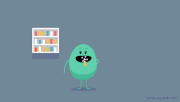 Eat medicine that's out of date is the third line of the first verse.

Characterization
Edit
The character for this line is a turquoise figure. Pillock's body is covered in large bumps. He is part of the first group. Like all the characters in the first verse, he is a Standard Dancer.
The assumption has been made that the character is male, simply to ease reading and writing this article.

The character is seen in a dark blue room (with what appears to be a medicine shelf, not a bookshelf like it first looks like) with his mouth open in a partial smile consuming several white pills before breaking out in bumps. At which point he stops smiling and looks awkward.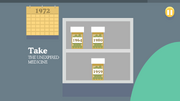 Kill Pill
Edit
The player must feed Pillock the unexpired medicine. If the player chooses the correct bottle, Pillock will give himself a thumbs-up. If the player chooses the incorrect bottle, Pillock will grow dots all over himself, like in the video, resulting in failure. Not feeding Pillock the medicine at all will also result in failure.
Dumb Dosage
Edit
Pillock's second minigame involves trying to fill the cup until the dotted line. Successing in doing so will have Pillock growing hair. Otherwise, poor Pillock ends up in the hospital with lumps all over his body, resulting in loss.
Ad blocker interference detected!
Wikia is a free-to-use site that makes money from advertising. We have a modified experience for viewers using ad blockers

Wikia is not accessible if you've made further modifications. Remove the custom ad blocker rule(s) and the page will load as expected.