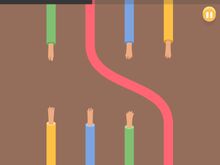 The electric wires don't appear in detail in the video, but they appear in the app.
In the version 1.6 update, as part of Dimwit's minigame, the player must connect the electric wire to their matching colours. The wires are seen in blue, green, yellow or red.
If the player matches the wires correctly, Dimwit's house will light up with flashing, sparkling lights; any wrong connections (incorrect colour, or not enough wires joined) will make Dimwit's house burn, just like in the video.
Putz wrote:
Or you'll end up like me!