Elecy is a bear-like character who turned gray after her death.
Appearance
Edit
Elecy's appearance is a blue character with ears. After her house sets fire, she turns grey.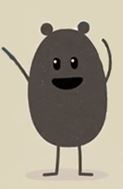 In the video, Elecy is seen inside her house. She turns on a light, and then smiles. Her house then sets on fire, turning her grey in the chorus.

Elecy is only an unlockable character at the Train Station.
On Dumbwaystodie.com, Elecy and her house are on a hill.
Elecy is a pun on the word electric.
She is not an electrician, or she would have been able to do her own electrical work without setting her house on fire.
She is the only one to change color.
She is the only character to have ears.
She and Orange Peanut are the only female Standard Dancers.
Elecy and Hikouki are the only characters who died because they did not seek professional help.