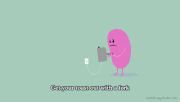 Get your Toast out with a a Fork is the first line of the second verse. He is introduced after the first chorus and comes before Do your Own Electrical Work.

Characterization
The line is characterized by an entirely skeletal figure. Dummkopf is part of the second group and is a second dancer.

Video
Dummkopf is seen holding a fork stuck into a piece of toast inside a toaster. He then lifts it up, and gets electrocuted. His burnt flesh falls down, revealing his skeletal form. He then looks down, then frowns.

The player must get the fork out without touching the sides of the toaster. If you win, Dummkopf will get his toast. If you fail, Dummkopf will get electrocuted.
Ad blocker interference detected!
Wikia is a free-to-use site that makes money from advertising. We have a modified experience for viewers using ad blockers

Wikia is not accessible if you've made further modifications. Remove the custom ad blocker rule(s) and the page will load as expected.