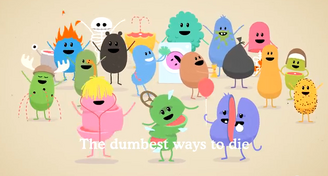 Group Five contains the final five characters in Dumb Ways to Die. Instead of containing four characters, it contains five.

Characters
Edit
The charcters in Group Five are:
Similarities and Differences
Edit
Almost all the Fifth Group characters are different colors.
This group contains five characters instead of four.
This is one of the two groups that every character has a minigame. The other one is Group Two.
This is the only group to have every character singing.
Doofus is the only character not to suffer a bloody death in this group.

He is also only character not to have a plush.

Botch is a tertiary dancer; Doofus is a second dancer; Stumble, Bonehead and Putz are standard dancers.
All the characters are males.
Ad blocker interference detected!
Wikia is a free-to-use site that makes money from advertising. We have a modified experience for viewers using ad blockers

Wikia is not accessible if you've made further modifications. Remove the custom ad blocker rule(s) and the page will load as expected.