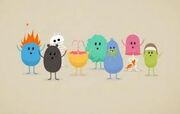 Group Two refers to the fifth to eighth characters met in the Dumb Ways to Die video.
The image opposite is both group one and two.

Characters
Edit
The charcters in Group Two are;
Similarities and Differences
Edit
All of these characters are different colors, with only Dimwit (before death) and Lax with the same color.
All of these characters are males.
All of these characters also have a second minigame in the app
Dimwit is a standard dancer, Dummkopf and Lax are second dancers, and Stupe is a solo dancer.
Dummkopf is the only non-singing character on this group, since he got electrocuted.

He is also the only character with a plush.
Ad blocker interference detected!
Wikia is a free-to-use site that makes money from advertising. We have a modified experience for viewers using ad blockers

Wikia is not accessible if you've made further modifications. Remove the custom ad blocker rule(s) and the page will load as expected.