Putz wrote:
Or you'll end up like me!
The Hot dog is a item that Mishap holds and Rattlesnake eats or turns down.
Appearance
Edit
The hot dog appears as a plain hot dog with mustard.
Video and Game
Edit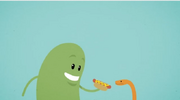 In the video, Mishap is seen holding the hot dog and then the rattlesnake bites his eye, in the game, the hot dog is either accepted or rejected by the rattlesnake.

Ad blocker interference detected!
Wikia is a free-to-use site that makes money from advertising. We have a modified experience for viewers using ad blockers

Wikia is not accessible if you've made further modifications. Remove the custom ad blocker rule(s) and the page will load as expected.