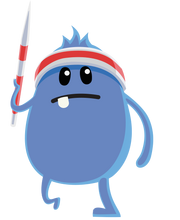 He resembles a child-stage Lax due to his similar colour and a single tooth protruding from his mouth.
He is the main character to feature in the dumbwaystodie.com website after the overhaul, as part of the Sports Trio
He is slated to feature in some of the minigames, as disclosed by Metro through sneak peeks.
A running gag in the first two trailers - Leg Training and Sprint Training - is that he endures a messy death.
He appears to be the mascot of Dumb Ways To Die 2 as he is seen in the title screen, including bar of lives and the result.
In the Rio Stadidumb and in the Dumb Ways Jr, he is dressing glasses
It could be possible to hear Loopy's default voice in the Bunyip Kumbaya minigame.
He and Stupa have a visible tooth from the upper jaw.
[edit]