| | |
| --- | --- |
| Mr. Gate & Mrs. Gate's name might be changed when Mr. Gate & Mrs. Gate's official name has been announced by Metro! | |
Mr. Gate & Mrs. Gate's gender is not confirmed by Metro yet, so the gender given in the article is decided by the Dumb Ways to Die Wiki community.
Be sure Mr. Gate & Mrs. Gate may not be Gentleman & Lady in the DWtD series!
Mr. Gate & Mrs. Gate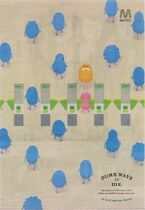 A pair of them except blue ones.
---
Appearances
Follow your Mate Through a Ticket Gate
For ease of reading this article, Mr.Gate is the yellow character, and Mrs.Gate is the pink character stuck in the ticket gate.
Mr.Gate & Mrs.Gate are the two characters entering the station through a ticket gate. In a feeble effort to join Mr.Gate in the station, Mrs.Gate gets crushed by the gate's barriers.
Putz wrote:
Or you'll end up like me!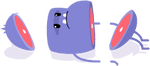 Ad blocker interference detected!
Wikia is a free-to-use site that makes money from advertising. We have a modified experience for viewers using ad blockers

Wikia is not accessible if you've made further modifications. Remove the custom ad blocker rule(s) and the page will load as expected.