The Nest of Wasps is the item full of Wasps with that Doofus threw in the air and got killed with.
Appearance
Edit
The nest of wasps is of a sand color, with dark sand-color stripes (see pictures)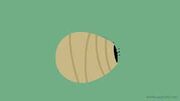 In the video, Doofus is tossing the nest up in the air, and then more wasps come at him each time, and then, he gets stung and dies.

In the game, the nest is only seen when the player wins or loses in Doofus's minigame. Also in the game if you press the "play the video", which plays the song, you see the Nest of wasps.
Ad blocker interference detected!
Wikia is a free-to-use site that makes money from advertising. We have a modified experience for viewers using ad blockers

Wikia is not accessible if you've made further modifications. Remove the custom ad blocker rule(s) and the page will load as expected.