Putz wrote:
Or you'll end up like me!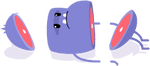 The Panda is a game-exclusive character in Dumb Ways to Die.
The player invites panda inside if they win the minigame involving Clod. The panda and the moose are the only animal characters who are exclusive to the app and don't kill anyone.
Ad blocker interference detected!
Wikia is a free-to-use site that makes money from advertising. We have a modified experience for viewers using ad blockers

Wikia is not accessible if you've made further modifications. Remove the custom ad blocker rule(s) and the page will load as expected.