Putz wrote:
Or you'll end up like me!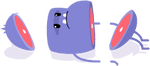 Phyllis is a character only featured in Dumb Ways to Die 2 the Games in the bonus games.
Her name was introduced in the Facebook page.
Appearance
Edit
She resembles a senior version of Dumbbell. [Non-canon info] She could also be Dumbbell's grandmother, but it's still debatable. (Reason? : As the last words suggest.) [Non-canon info ends here.]
Ad blocker interference detected!
Wikia is a free-to-use site that makes money from advertising. We have a modified experience for viewers using ad blockers

Wikia is not accessible if you've made further modifications. Remove the custom ad blocker rule(s) and the page will load as expected.