Rail Safety Week is an annual event dedicated to rail safety awareness, and is celebrated by train and public transportation companies, including Metro Trains.
Rail Safety Week 2013
Edit
The first event to ever feature the Dumb Ways to Die characters involved a new mural featuring all of the characters, as well as an interactive big red button for commuters and visitors to make their pledges.
Rail Safety Week 2014
Edit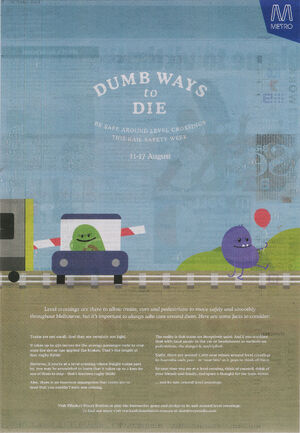 The latest event happened between 11th to 17th August, 2014, and involved meet and greets with Numpty, Stumble and Botch, as well as an interactive game, which encouraged players to "be safe around level crossings".
Specialised posters, as well as informational adverts were published in the commuter papers, as well as arranged in the train stations. There were also giveaways, such as collectors' posters, badges and even an informational brochure that explained why staying safe around level crossings matters.
Rail Safety Week 2015
Edit
Putz wrote:
Or you'll end up like me!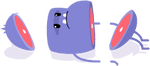 Ad blocker interference detected!
Wikia is a free-to-use site that makes money from advertising. We have a modified experience for viewers using ad blockers

Wikia is not accessible if you've made further modifications. Remove the custom ad blocker rule(s) and the page will load as expected.