| | |
| --- | --- |
| Reite's name might be changed when Reite's official name has been announced by Metro! | |
Reite's gender is not confirmed by Metro yet, so the gender given in the article is decided by the Dumb Ways to Die Wiki community.
Be sure Reite may not be a Gentleman in the DWtD series!
Appearance
Edit
Reite is a navy blue/purple character only seen in Dumb Ways to Die 2 the Games, where Reite runs over Dumbbell with his motorboat.
"Reite", the unofficial name, is German for "rider".
Putz wrote:
Or you'll end up like me!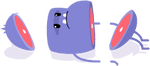 Ad blocker interference detected!
Wikia is a free-to-use site that makes money from advertising. We have a modified experience for viewers using ad blockers

Wikia is not accessible if you've made further modifications. Remove the custom ad blocker rule(s) and the page will load as expected.