Scratch a Drug Dealer's brand new ride is the second line of the third verse. Doomed comes after Invite a Psycho Killer inside and comes before Take your Helmet off in Outer Space.

Characterization
Edit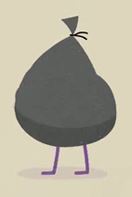 Doomed's line is characterized by a garbage bag with purple legs. For the chorus, he and Ninny are the only characters to not have any injuries.
The assumption has been made that the character is male, simply to ease reading and writing this article.

He suffers a brief death; being struck with a baseball bat by an offscreen assailant.
He is a Standard Dancer - to the best of his capabilities within the bag. He still dances, swaying his arms when the other do and so on. 
Ad blocker interference detected!
Wikia is a free-to-use site that makes money from advertising. We have a modified experience for viewers using ad blockers

Wikia is not accessible if you've made further modifications. Remove the custom ad blocker rule(s) and the page will load as expected.