| | |
| --- | --- |
| Señor Redcape's name might be changed when Señor Redcape's official name has been announced by Metro! | |
Señor Redcape's gender is not confirmed by Metro yet, so the gender given in the article is decided by the Dumb Ways to Die Wiki community.
Be sure Señor Redcape may not be a Gentleman in the DWtD series!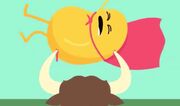 Señor Redcape is a yellow character introduced in Dumb Ways to Die - Running of the Bulls as a standalone character. Unlike other characters, he is not from the original music video.
In the course of the video, he appears happy and calm at first in his clip, then with a frightened expression, he is running from bulls before getting attacked by the bull's horns.

Ad blocker interference detected!
Wikia is a free-to-use site that makes money from advertising. We have a modified experience for viewers using ad blockers

Wikia is not accessible if you've made further modifications. Remove the custom ad blocker rule(s) and the page will load as expected.