The Spacesuit is the item that Numskull wears.
Appearance
Edit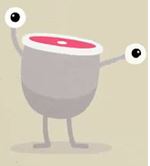 The spacesuit is grey. It consists of gloves plus a helmet. Numsukll's legs and feet are covered by the spacesuit, much like her whole body, except the gloves.

In the video, Numskull wears the spacesuit, and her head bursts.
In the game, Numskull wears it again.
Putz wrote:
Or you'll end up like me!