Superglue is the item that Calamity consumes.
Appearance
Edit
The superglue's appearance is a yellow bag, and has white glue inside.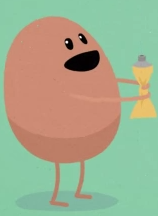 In the video, Calamity is seen standing, and then squeezes her superglue, eats it, and then she can't move, due to the superglue gluing her to this position.

The Glue bag is simply seen on the floor while the player has to tilt their device. It also appears when you pause the game where Calamity squeezes it, but doesn't drop it.
Ad blocker interference detected!
Wikia is a free-to-use site that makes money from advertising. We have a modified experience for viewers using ad blockers

Wikia is not accessible if you've made further modifications. Remove the custom ad blocker rule(s) and the page will load as expected.