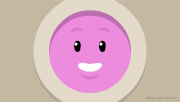 Use a Clothes Dryer as a Hiding Place is the fourth and last line of the third verse.

Characterization
Edit
This line is characterized by a pink figure visible in a round opening in a brown (Grey in chorus) box - which would be assumed as a clothes dryer. The shape and the height of Bungle is unknown.

In the video
Edit
He winks, then he begins smiling, then becomes scared as the dryer builds speed.