Wasps are the bugs that kill Doofus, who chose to disturb a nest of wasps for no good reason.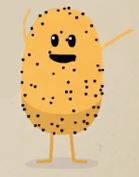 Doofus is throwing a wasp nest in the air, a wasp nest. The wasps then cover Doofus, killing him.

In the game, the wasps are seen as real wasps, rather than black dots. If the player swats them, they will appear as black dots again, but they are on the ground, meaning they are dead. If the player fails, the wasps will kill Doofus again.
The wasps, along with a nest of wasps are seen again in Doofus' another minigame. The wasps make a winking face at Doofus if it's successful. Otherwise, the wasps kill Doofus again, resulting in failure.
Ad blocker interference detected!
Wikia is a free-to-use site that makes money from advertising. We have a modified experience for viewers using ad blockers

Wikia is not accessible if you've made further modifications. Remove the custom ad blocker rule(s) and the page will load as expected.