Zany is a character only seen in Dumb Ways to Die 2 the Games. His name was confirmed by a Facebook post.
Appearance
Edit
Zany is a skinny, magenta character with a tuft of hair on his head, and is wearing a white and blue sweatband, which is slightly lopsided.
Zany is the only character who is magenta.
He appears in many minigames.
Zany at least has one minigame of him in each place on the map.
Zany is the only character with a lopsided sweatband.
Zany, Dumbbell, and Madcap have blue sweatbands.
The minigames Zany competes in are: Dragon Manicure, Stay off the tracks, don't force the doors, running beside the pool, rocket ski jump, plane balancing, climbing the volcano, running with scissors, and clearing the doors.
Putz wrote:
Or you'll end up like me!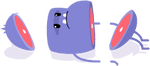 Ad blocker interference detected!
Wikia is a free-to-use site that makes money from advertising. We have a modified experience for viewers using ad blockers

Wikia is not accessible if you've made further modifications. Remove the custom ad blocker rule(s) and the page will load as expected.